family fun
Skeet Shooting at Zion Ponderosa Ranch
LuckyBlogs.com here to guest post about the great time I had at Zion Ponderosa Ranch Resort Mom It Forward Retreat in May. One of the activities I participated in while I was there was Skeet Shooting. Shotguns aren't for the faint of heart. Movies and TV shows make them look fairly easy to shoot, but I worried about the kickback (or recoil, as gun enthusiasts call it). Luckily there was a knowledgable and encouraging teacher my first time.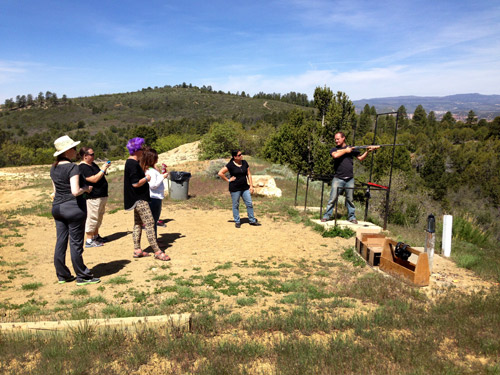 Having been around guns since I was a teenager (my dad sold them), it's surprising I hadn't shot one yet. My very first shot (not counting the water gun game at Las Vegas' Circus Circus that I always won) was at an outdoor gun range with metal animal targets at quite a distance. Proud to say I nailed the turkey with my first round. From then on I was hooked and consider myself an eagle eye (check out my Zombie Tom post on my old blog).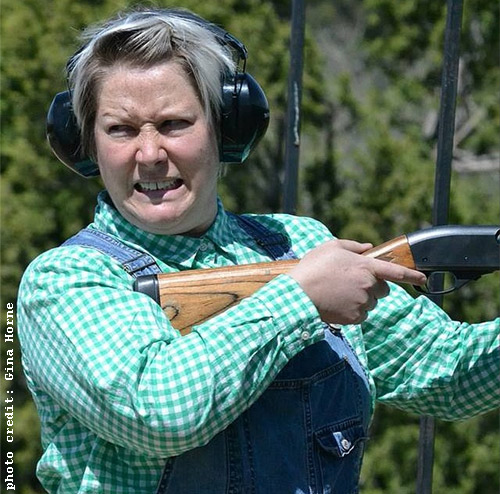 Then this eagle-eye-girl tried her hand at shotgun shooting (12 gauge; has the least kickback of the shotgun gauges) and got disappointed real fast. For some reason I had a tricky time getting my shots timed right with the moving skeets (hand-thrown clay disk over a gully). Lucky for me, Eric at Zion Ponderosa Ranch Resort was super patient, knowledgeable, and encouraging in teaching me the difference between handgun and shotgun shooting. He had me shoot at two stationary targets to get my aim down (demolished them both) then I was able to hit four moving skeets!
A positive plug for the skeet shooting activity at Zion Ponderosa Ranch Resort... I haven't skeet shot anywhere else to have a comparison, but for being an experienced shooter (plus I have a concealed firearm permit) I am impressed with their set-up. We piled into a multi-passenger van that took us a couple miles away to a secluded hill overlooking an empty gully where there are no trails or people to worry about (by the time the shotgun bits made it down to where anyone might be standing they'd feel like a sprinkle of rocks). There are three shooting stands that give you 1) a frame to keep the barrel of the gun so it doesn't accidentally aim in the direction of people, 2) a concrete platform for a firm stance, and 3) a place where non-shooters know to steer clear for safety. We had about six Mom It Forward gals in our group. Only one had ever used a shotgun before but that didn't matter to Eric, our guide, who grew up on the ranch and comes back every summer to work. He couldn't have been a better coach.
Eric and the other encouraging gals made my first skeet shooting experience one that I would recommend everyone try! It was that fun!
How do you like to get your adventure on?
Post by Shannon at LuckyBlogs.com
The following two tabs change content below.
Latest posts by Mom It Forward (see all)
Comments