lifestyle
Blogging Conferences: 10 Reasons to Take Your Spouse
me • hobbies & me time • lifestyle • hobbies-me time
I go to a lot of conferences. And while I have ended up in my own hotel room before, normally I'm sharing not only a room, but a bed with other women in social media who, like myself, are looking to reduce cost.
But, when I went to Mom 2.0 last month, I had had enough. I wanted my bed, my pillow, my stuff. I love my bloggy friends, but if I couldn't be home, then I at least wanted the closest thing to home—my husband. So I took him with me. I know! Awesome!
And I didn't just take him with me, drop him in the room, and go off to enjoy the conference by myself. I got him a full-access conference pass and, unbeknownst to him, I scheduled him to attend one of the "Go" activities without me—a Jazz Tour, sponsored by PBS Kids (the one he was most interested in). I, then, scheduled myself to go and do something entirely different that afternoon—to build a playground with KaBoom! sponsored by Dr Pepper Snapple. Why? So that he would have his own conference experiences.
Top 10 Reasons to Take Your Husband to a Blogging Conference With You
If you are wondering whether to take your spouse or significant other to a conference with you, here are 10 reasons why you should consider it. See Troy's list at Dadventurous.com for his perspective.
He will go a day early and go on a mini-road trip with you to Mississippi so you can visit your 47th state.
He won't mind if you talk about the kids all weekend. In fact, he'll join in on the conversation and will know exactly what you're talking about.
He won't forget to call home.
Unlike your previous conference bedmates (which wouldn't have been at all appropriate ;P), he'll snuggle with you!
There's only one other person to share the hotel room with, including the bathroom.
He says: "You look skinny in that!" every time you ask him about your fashion choice.
He brings the big luggage, making it possible to bring your pillow from home not to mention to bring back all that wonderful swag.
He meets and introduces you to all of the other fabulous dudes in attendance.
He will be your biggest fan while at the same time giving you super candid feedback about how your presentation went.
He'll make you jump in all of your pictures from Mississippi to New Orleans, including at various sponsor booths at the conference (pic on right has me jumping with the HP mini laptop).
Giveaway Prize
One lucky winner will receive an HP Pavilion dm1 powered by AMD VISION. Here's more details: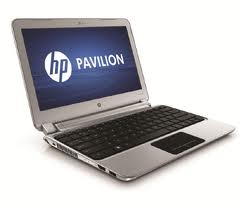 11" display, just over 3 lbs and about an inch thin—no more lugging around a heavy computer
dm1 has enough memory to hold mom's favorite photos, music and videos
CoolSense technology knows if the notebook is on your lap or the countertop and adjusts its temperature accordingly
Built-in webcam for video chatting with loved ones
The dm1 is available at  HP Home & Home Office now at a starting price of $449.99
Giveaway Requirements
Please do the following to enter for a chance to win the HP Mini Laptop
1. Like @momitforward on Twitter.
2. Like the Mom It Forward Facebook page at http://facebook.com/MomItForward.
3. Tweet the following:
RT @jylmomIF GIVEAWAY! Enter 4 chance 2 win @HP_PC Mini Laptop (ARV $499) http://bit.ly/jD1OCM PLS RT
Giveaway Terms
This giveaway is being run in conjunction with http://dadventurous.com. You may enter to win on both sites, but only one winner will be chosen. You must follow the rules on each giveaway in order to qualify. Winners will be selected randomly through http://random.org. No purchase necessary to enter. Giveaway ends at 11:59 p.m. ET on Sunday, May 8, 2011. See all terms and conditions here. This giveaway is available to U.S. residents only. Entries that do not include a link to their original tweet will not be considered.
Disclosure: HP provided me with an HP Mini Laptop for review in conjunction with this giveaway. The awesome jumps? Those are my own!
The following two tabs change content below.
An active part of the Mom It Forward team, Jyl primarily writes about parenting, social good, and all things travel related. In a past life, Jyl was an award-winning copywriter and designer of corporate training programs for Fortune 100 companies. Offline, Jyl is married to @TroyPattee; a mom to two teen boys and a beagle named #Hashtag; loves large amounts of cheese, dancing, and traveling; and lives in the beautiful Rocky Mountains. Topping her bucket list is the goal to visit 50 countries by the time she's 50.
Latest posts by Jyl Johnson Pattee (see all)
Comments