lifestyle
Connectedness: 3 Ways to Celebrate and Remember Your Grandparents
relationships • me • relationships • lifestyle
Grandparents—Today, the 10-year anniversary of the 9/11 attacks, is probably a somber day for many of us. It is a day mostly of remembrance, of thinking about victims we may have known or where we were when we heard about the attacks on the twin towers and the Pentagon. But this year, this day can be an occasion not just for remembering them, but also for remembering those related to us who have gone on before or who may even still be with us. It is National Grandparents' Day. It can be a fun, interesting, and positive day as we reconnect with them.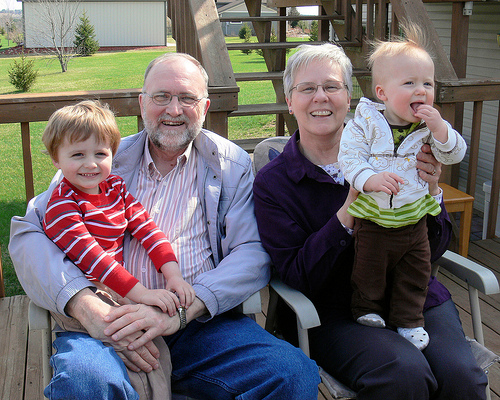 3 Ways to Commemorate Your Grandparents
Here are some ideas for commemorating this occasion:
Encourage your son or daughter to enter the Legacy Project's Listen to a Life Contest, which is a formal opportunity for them to interview an older person (i.e., over 50 years old), write a short essay about it, and possibly win a computer, hundreds of dollars in software, or an iPod Nano.  See the link for contest rules and ideas.
Make, and perhaps involve your children in the making of, a dish created by a grandparent or that they frequently served at holiday meals. My Grandma Peck was from the deep south and provided a yam recipe that I'll be trying out.
Go to a family history site like Ancestry.com, USGenWeb, or FamilySearch, enter a passed-on grandparents' name, and see what information comes up. I did this (my husband works for Ancestry), and ended up making a whole book out of her stories and those of my other ancestors four generations back. SO fun, particularly since my aforementioned grandmother was a colorful person who did things like getting herself banned from a nearby gambling town at the age of 92.
As you take a little bit of time to remember or spend time with your grandparents, take a moment to think about how doing so not only improves your connection with them, but strengthens your sense of community, your connectedness, perhaps, with a bigger picture. Let us know how it goes.
How do you celebrate and remember your grandparents? What is your favorite memory with your grandparents?
Photo courtesy of Flickr.
The following two tabs change content below.
Latest posts by Mom It Forward (see all)
Comments