parenting
Gift Giving: To Give or Not to Give This Holiday Season
Every year, I create a budget for holiday shopping. We have four children and as they get older, staying in budget is getting harder and harder. The items they want are not found in the toy aisle anymore if you get my drift. Not only do I typically buy gifts for my family, but I also have friends, co-workers, extended family, dentist, orthodontist, and my hair dresser on my list. I am worried there is not going to be enough money to go around.
This holiday season I had a chance to participate in a group discussion with Women & Co about holiday shopping. One huge take away that I received from this chat was that you don't have a give a gift to everyone you care about during the holidays.
The majority of respondents in the Women & Co./Real Simple holiday survey say they buy gifts for at least 10 people, with 1 of 4 purchasing gifts for more than 15 people during the holiday season. Forty-two percent of women wish they could stop exchanging gifts with certain people.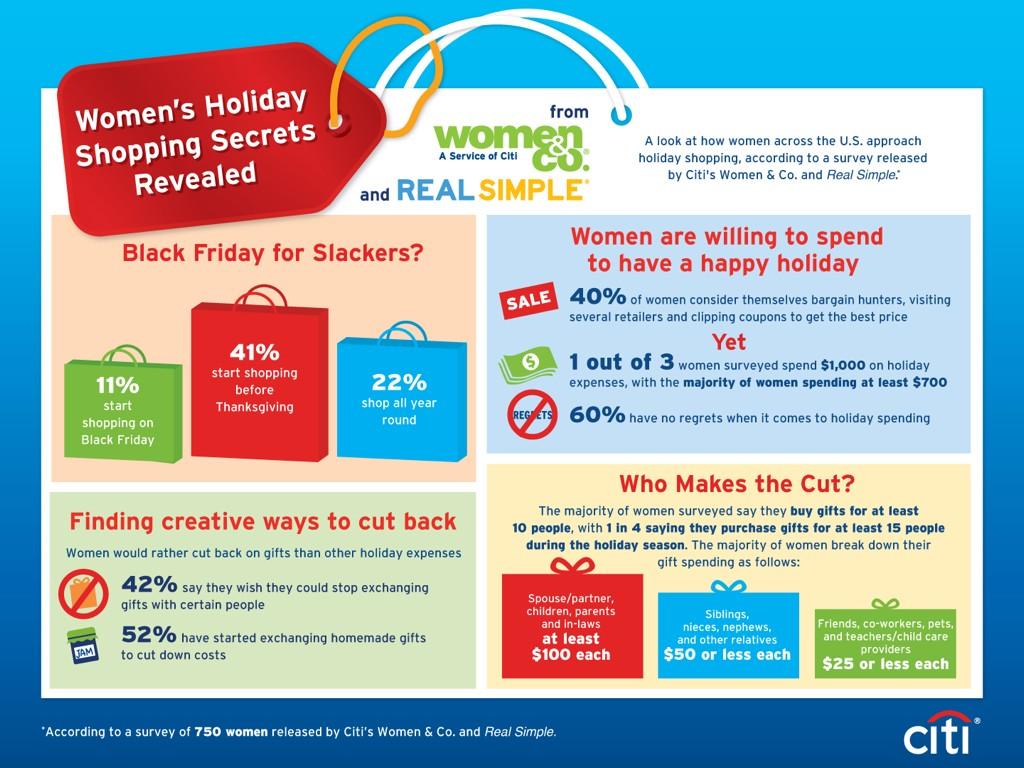 How To Cut Down on Gift Giving During the Holidays
In our discussion, Linda Descano, President/CEO of Women & Co., shared some tips on how you can limit the amount of gifts you give without hurting people's feelings:
"The best option is to prevent the unwanted gift exchange. Propose a holiday gift swap where co-workers or friends are responsible for one gift each. This is a great way to manage expectations among friends and co-workers, stay on budget, and make everyone happy!"
"If the inevitable does happen and you get an unexpected gift, remember, you should never go into debt or buy things you can't afford just to reduce your level of holiday guilt. Gifts are just that, "gifts," and come with no obligation of reciprocity. That being said, it is always nice to show that you appreciate the gesture, even if you cannot afford to return a gift of the same caliber (or at all). Remember, nice low-cost gifts are available if you take the time to search for them. Here are some low cost ideas for kids (crazy straws, lip gloss, monster cars, coloring books, pony tail holders, colorful pick up sticks), for women (a sponge & sample size body wash, nail files in crazy colors and patterns bundled up with nail polish), and for men (six-in-one screwdriver set or emergency light to keep in trunk). Some other creative ideas that I like range from a tin of homemade cookies, a thumb drive that includes your favorite photos with that person, a homemade tree ornament, and homemade potpourri sachets. As I said, it's not about how much you spend, but showing that you care and put thought towards a gift."
Kathleen Harris, Managing Editor from Real Simple Magazine says, "We have to remember that giving a gift is an act of generosity and thoughtfulness. It's not something that's expected, but something that you do for people who have supported you or been kind throughout the year. But, for sure, the list can definitely get complicated between who to tip, give gifts to, or anything in between. We've put together a guide to help our readers navigate: Real Simple's Holiday Tipping Checklist. Hope this helps with many of your questions (postal carriers and hairdressers included!)."
I am so glad I participated in this money discussion. I feel a lot better about cutting people off my gift list, and finding small and simple ways to express my gratitude and love for them this holiday season.
How do you plan on saving money this holiday season?
Jill Greenlaw has a banking background. She gave that up 17 years ago when she got married and started having kids. She loved being a stay-at-home mom while raising her four beautiful children. A few years ago, Jill went back to work in sales. She is now working for the Mom It Forward team as their Community Manager. She loves her job. Her interests include camping, motorcycling, boating, photography, reading, cooking, and traveling. Put her in flip flops anywhere warm and she is happy.
The following two tabs change content below.
Latest posts by Mom It Forward (see all)
Comments