@SandyCoughlinRE Helps People Enjoy the Lost Art of Hospitality
my world • moms making a difference
Sandy Coughlin believes wholeheartedly that entertaining - that is, the act of inviting people into one's home for an event—is a lost art. It is a way of connecting with others, of engaging in a unique, rich, face-to-face way. She is passionate about the lost art of Hospitality. She and her husband Paul noticed a few years ago, though, that many people were reluctant to entertain. They often found that, for many people, feelings of inadequacy, unrealistic expectations, fear of failure, and a lack of time all conspired to steal the joy that could come from opening one's home and sharing fellowship with others. But Sandy was just as fervent about helping her friends overcome those "joybusters."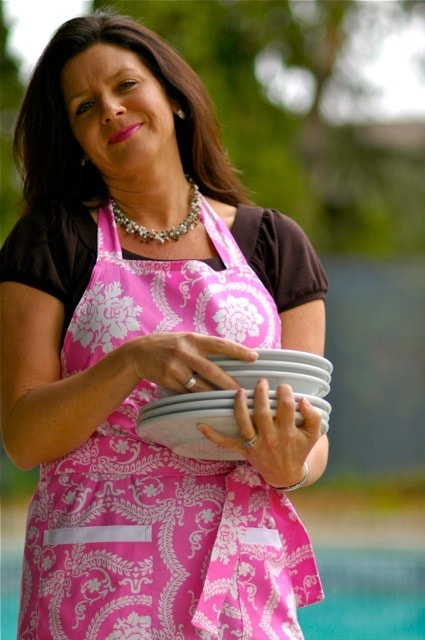 When someone has a passion for something and needs a means to put ideas out there for a wide group of people, one starts a blog, right? When someone suggested that Sandy put her passion to good use and start a blog, she replied, "what's a blog?" You could say she was reluctant, from lack of knowledge. But if you were to go to www.reluctantentertainer.com today, you wouldn't notice any uncertainty. It is a site teeming with tips on decor, creative cooking, and overcoming perfectionism in the kitchen.  It offers pictures of her messy kitchen. It is a blog that offers an internet arm-over-the-shoulder nudge to the entertainer who is reluctant but ready to learn.
Interestingly enough, though, Sandy's passion does not stop there. In fact, it finds a bit of a focus in teaching young girls how to be hospitable, or better able to navigate the difficult and murky world of relationships. Begun initially for her 3rd-grade daughter and her friends, Sandy's Balcony Girls has now blossomed into an 8-week, eBook-based program. It involved weekly meetings in her home and lessons, crafts, and treats centered around teaching these principles:
Confidence
The value of trust
The power of words
The virtue of self-esteem
How to grow teamwork
The need for authenticity & honesty
The last lesson in the Balcony Girls series teaches girls that the power of their circle of friends can be used for good. Sandy says, "The motto of a Balcony Girl is: she knows how to build up and not tear down, to applaud her friends' accomplishments and to cheer them on."
For Sandy, hosting the Girls' meetings involved inviting girls into her home, which was not always clean, due to her busy life (her husband is a national speaker and author on bullying, and she has 3 teenagers). It involved her overcoming her reluctance for the good of her daughter.  She overcame her "joybuster" so that she could help her daughter have joy in her relationships. She strives every day to help us overcome ours by filling reluctantentertainer with useful information and resources. In the name of hospitality and for the joy of re-connecting with others, may we also learn to entertain!
What are your "joybusters"? How do you overcome them?
The following two tabs change content below.
Latest posts by Mom It Forward (see all)
Comments